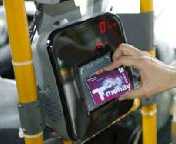 The City of Seoul is operating the unified charging system to reduce financial burdens of the citizens for using public transportations. Even if a passenger have a multiple transfers among different transportation types (subway, different buses and etc.) for a trip, the passenger is charged as using 1 transportation type, 900 won (1000 won paying with cash) within the designated initial distance. and there is additional 100 won for every 5 km after the initial distance.
With an applicable T-Money card or a transportation card, one can get saving benefits of the unified charging system. a passenger must place a T-Money card or a transportation card on the card reading machine when the person is getting on and off the bus (or subway), so the distance traveled is recognized with the card and the total charges are calculated by the machine. When having transfers, a passenger repeat the same procedure for each ride, so all the distance is calculated and decided to charge nothing or some 100 wons more for a certain ride by the reading machine.
To get the benefits of the unified charging system, the transfer layover time must not exceed 30 minutes (or 1 hour during 9:00 pm ~ 7:00 am). If a passenger is paying with cash, 100 won is more charged.
T-Money can be purchased or recharged at stores near bus stops or any Woori Bank. It also can be recharged at any subway stations. The previously used transportation cards still can be used as T-Money.