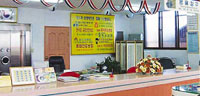 For mailing letters and post cards, one can insert them in the red mailboxes on streets or bring it to a post office.
EMS is a postal system that is cooperated by the Korea post and postal services in other countries with certain conditions and agreements. The system enables to expedite the delivery of mails and packages in greater security.
For more information (dimension, rate, weight/customs/package tracking), please call 1588-1300.
After sending international mails (EMS, air shipping packages, registered mails), it is possible to track mails or packages by calling 02-2108-0050~60
Calling from outside of the country, please call 82-2-2108-0051~0059.