Entry & Departure Inspection of Nationals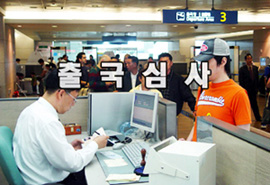 The purpose of departure inspection is to ensure safe journey abroad by checking validity of necessary documents (such as the passport), as well as preventing violators of immigration laws from departing the country (those with fake/altered passports or those not allowed to leave the country).
There has been significant increase in foreigners trying to use fake/altered passports to leave the country, which calls for a careful inspection process. We apologize in advance for any inconvenience this may cause and ask for your cooperation during the section process.
Co-operation Matters of Departure Inspection
< posted : 02/01,2008 >